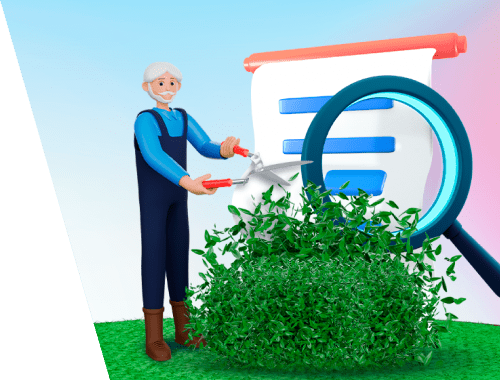 Content Pruning and How It Helps Your SEO
Would you like to have more traffic with less content? This is not science fiction: good content can work miracles for your website SEO. In this post, you will learn why content pruning is a winning tactic and how to prune your content to do more with less.
What is content pruning?
Content pruning is the process of removing content that is obsolete or underperforming. This SEO tactic helps to improve the overall quality of your website by cutting off badly performing pages.
The term pruning comes from the gardening activity when you trim plants. Pruning also exists in data science when you remove non-critical nodes to reduce the size of decision trees.
Why content pruning is important
Content pruning is a must for old and large websites with thousands of URLs. It helps refine content and delete posts that are not working for your benefit or even harm the website's SEO performance.
More content is not necessarily better for a site's SEO. There is enough evidence on the web about how deleting old content can help websites rank up. Here are at least three solid reasons for that:
1. Сontent becomes outdated or irrelevant over time.
The so-called content decay happens naturally when topics come and go, and information becomes outdated. There are plenty of reasons for that: a story gets new twists, a product leaves the market, and so on. In the end, the pages get fewer and fewer visitors, stop circulating on social media, and finally get useless for a website.
2. Thin content spoils the quality of a website.
Another issue that may even end up with penalties is having lots of thin content. This includes pages that are too concise and bring no real value to visitors. This can be AI-generated content, thin affiliate pages, etc.
By the way, the Panda algorithm, which was associated with content quality, has now been integrated into Google's core. Today, content is ranked by more complicated systems, such as Bert, RankBrain, and MUM. So, with so much focus on search intent and relevance, thin content can be only part of a bigger issue.
3. Duplications waste the crawl budget and annoy visitors.
On top of that, some topics might be covered several times over the years. Similar topics seem like near-duplicates that seem to have little additional value. Also, keyword cannibalization may occur, throwing all the hard work into the dustbin.
All these issues have the same result: the quality of content becomes rather poor, and it affects the global ranking of a website. Considering all the above, take content pruning as a spring cleaning. Users will benefit from it, and search engines will reward your effort as well.
And this leads us to the next important question: what is quality content that will be good enough to rank?
What is quality content in SEO?
In 2022, Google came up with a helpful content update and refreshed its quality raters' guidelines. In this document, Google defines what should be considered useful content and what areas are more susceptible to it (so-called YMYL, Your Money Your Life topics). While these guidelines have nothing to do directly with rankings, they help us understand how Google sees quality and relevance.
In fact, good-quality pages are those that achieve the beneficial purpose for which they are intended. And if they don't, this happens because:
The page has an inadequate level of Expertise, Authoritativeness, and Trustworthiness (E-A-T) for its purpose.
The quality of the main content is low for the purpose of the page.
There is not enough helpful main content for the purpose of the page.
The title of the main content is exaggerated, shocking, or disturbing.
Ads or supplementary content distracts attention from the purpose.
There is not enough information about the website or the creator of the main content.
A website or creator has a negative reputation, based on extensive reputation research.
Basically, all these boil down to the following motto: create good content that will be beneficial for users. On top of sheer content creation, establish enough signals for the evidence of your expertise and relevance. Altogether, these actions will improve the overall quality of a domain and help it rank.
For more details, refer to this guidance on building high-quality sites. And now let's see when and how to prune content without messing things up.
Step 1. Compile a list of URLs and their performance stats
The first step in the content pruning process is to compile your content inventory. Audit your website to see how many URLs it has and how they perform. To do this, you will need Google Analytics, Search Console, and SEO tools like SEO PowerSuite.
First of all, you'll need to think about what URL data to collect for content pruning. It depends on every individual case, but the basic sheet will have the following stats:
Landing Page
Impressions
Clicks
CTR
Organic Traffic
Target keyword
Keyword difficulty
Other ranking keywords
Backlinks
Etc.
Part of this data can be collected with the help of WebSite Auditor. For the rest, you'll also need to consult Google Analytics and Search Console (by the way, WebSite Auditor integrates with Universal Analytics).
First, run WebSite Auditor and add the URL of your site to start an audit. When the crawl is complete, the tool will show all your pages collected in the Site Audit > Pages section.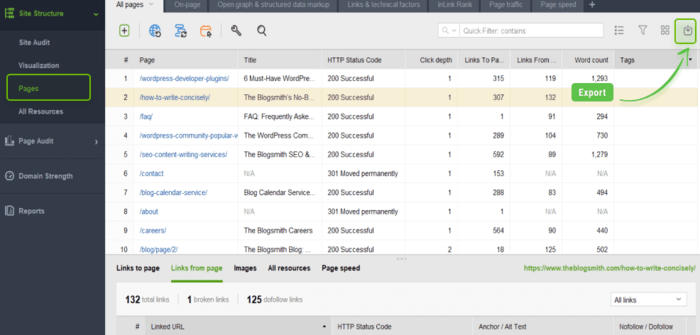 By hitting the down arrow in the top right corner of your workspace in WebSite Auditor, you can export all the URLs in a CSV format. This way, it will be easier to manage all the URLs, consolidate their data, and prioritize pruning tasks.
Note
WebSite Auditor extracts only visible records from the workspace. So, you can filter out some stats you might not need for your content audit. Or, vice versa, you can go through the Site audit sections and take notice of content-related issues. If there are some, you can extract them in the same sheet (or a separate sheet and then merge them in a working table).
Click on the Edit visible columns icon in the top right corner and add the data you might need. For example, these can be columns with the Title, H1 headings, Ranking keywords, Organic traffic, Cache date in Google (or Bing, Yahoo, or any local search engine you target), Last Modified, or Popularity in social media.
The stats will help you detect issues that might be categorized and labeled in your worksheet as follows:
CTR lower than average
Declining impressions
A page does not rank in the top 10
Traffic does not convert
Etc.
One more suggestion is to estimate how the planned changes might benefit your website, for example:
The page should enter the top 10
Expected clicks if a page ranks #1
A rich feature appears
Etc.
Finally, have two more columns for the date of implementation and labeling the type of work to be performed, such as:
Text improving
Redirect
Delete a page
Internal linking
Etc.
All these stats split into rows and columns will help you manage your content pruning plan without hassle.
Step 2. Identify pages to prune
Your next step in content pruning is to audit your website content and identify pages that do not bring any SEO value. For example, these can be:
Underperforming URLs
You will find it in Google Search Console > Search Results section. Here, you've got to filter and identify (make sure to pick a period longer than the default month's term):
URLs that have many impressions and zero CTR.
Queries with an average position between 10 and 50.
Pages with declining impressions and clicks (compare within a selected time range, e.g., six last months to the previous period).
Pages with the fewest impressions and clicks (that probably can be simply deleted).
These queries are your low-hanging fruit that can bring a positive effect quicker and are the main target of a larger content audit.
Pages without traffic
Another place to check for your pruning process is Google Analytics. Go to Behavior > Site Content > Landing pages and identify those with the least number of sessions over some time. Since they do not get any views, probably, they are a waste.
URLs with high bounce rates
User experience is also a factor to consider. If a page has a high bounce rate, it means it does not bring any value to visitors. Probably, it has some on-page issues, or it might be low-quality content as well. Find this metric next to your sessions in the same section in Google Analytics. You can also consider user engagement in GA4 for the same purpose.
Duplicate content
Duplicate content is an issue for SEO because it wastes the crawl budget. The main source of revealing your duplication issues is the Search Console's Indexing > Pages report. Examine the URLs marked as:
Crawled and currently not indexed
Alternate page with proper canonical tag
Duplicate without user-selected canonical
Duplicate, Google chose a different canonical than the user
Also, let WebSite Auditor scan your site and find all duplicate titles and meta descriptions.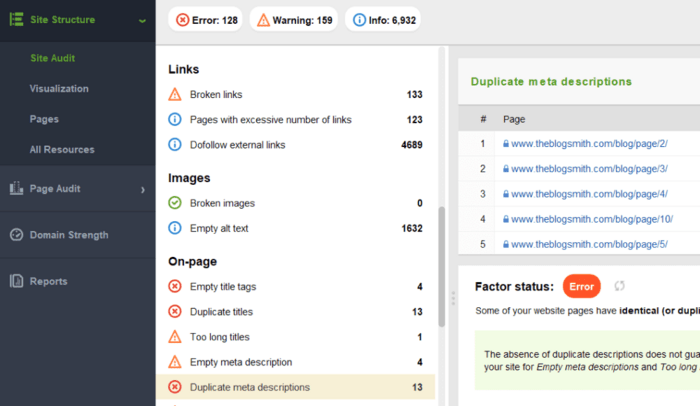 Thin content
Although the word count is not a ranking factor, a lot of thin content on a site can serve as a sign of bad quality to Google. Besides, the desired word count metric is flexible for various types of pages. For example, a product page normally has fewer words than a blog post. Meanwhile, long-form content tends to rank for more keywords.
So, in the WebSite Auditor's Pages section, find the Word count column, and filter the URLs in descending order. This way, you will easily find posts that lack words.
Outdated titles
Years in titles increase click-through rates, and you have surely added some of them to your URLs. Here is a tip for content pruning: use WebSite Auditor's Custom search to find all URLs that contain past years in their titles. Probably, you can revamp them to be up-to-date for the current year whenever possible. Yet, some of them might be just too outdated to keep.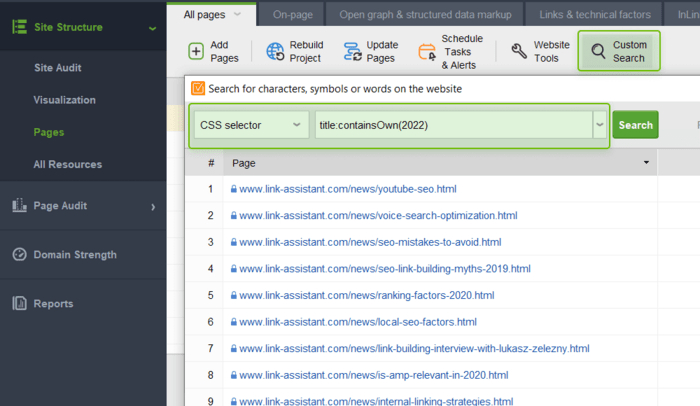 Orphan pages
Another issue is having too many pages that are not linked, which means they are hard to find for searchers and bots. You can spot them in the WebSite Auditor's Visualization tool. Mind that you must enable the option to find orphan pages in the Preferences > Crawler Settings before you run the content audit.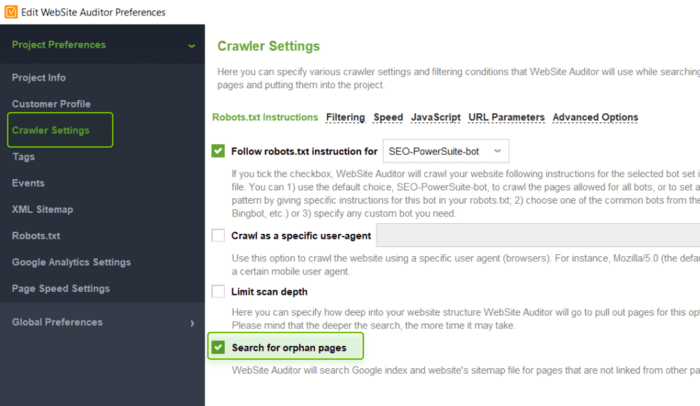 Broken links
Make sure to audit your content for dead links once in a while because you may be surprised how often URLs go broken.
Add Broken links to the visible columns and click on the column header to filter them, starting from those with the biggest number. The drop-down menu helps filter internal and external links. Analyzing each page, you can find all broken outgoing links that you can fix easily.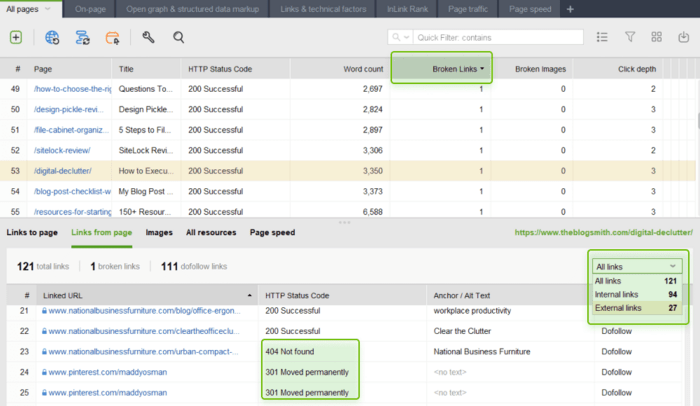 Another place to check links, redirects in the first place, is the Visualization submodule with an overview of the whole site structure.
In all, a visual sitemap can be a helpful tool for content pruning. Here, you can add annotations about the changes you're going to make. For example, add plans to merge two pages, set up a redirect, unpublish a page, or refer links to a better destination.
Finally, the tool lets you rebuild the project and see how the PageRank flow changes after the edits.
Step 3. Assign the tasks for content pruning
After you've identified the issues, assign the type of work to be performed over the landing page. It is convenient to calculate a prioritization score by choosing your criteria (for example, the expected traffic, the difficulty of the edits, urgency, or anything else).
When prioritizing topics, check if they could bring you large traffic quicker. Rank Tracker can help you estimate expected visits based on search volumes and keyword difficulty.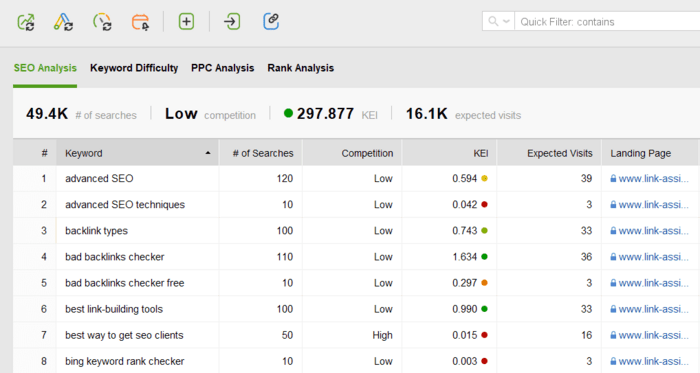 Besides, the SERP Analysis tool helps to analyze the strength of competing ranking pages for each keyword. So, you can estimate if you need to improve on-page or add backlinks to the relevant page and if the keyword is difficult to optimize for.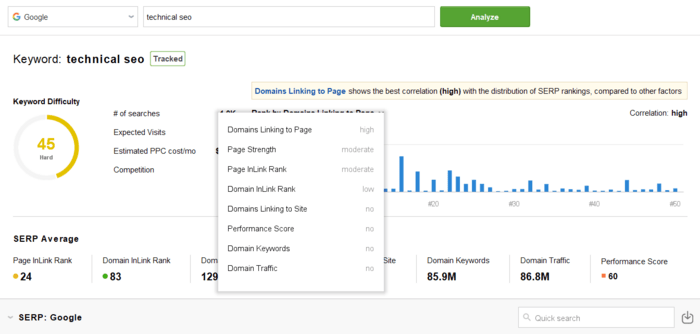 For us, content pruning has proven to be one of the efficient SEO tactics. Here is a short round-up of different content pruning methods and common questions arising along the way.
Update content
First of all, you can identify evergreen topics that do not fade and can be updated regularly.
For example, we've kept updating a page about Google algorithm changes. Unfortunately, it is not a simple task because it is not always possible to squeeze an unplanned piece of work into the writing calendar.
A solution is to put aside a couple of days in the content plan and set up a reminder to give a refresh to your evergreen stories.
Should I change the date of publication?
This can be a tricky question for authors and searchers, too. As you might have heard, Google likes fresh dates and picks up fresh publications to give them a chance (which may happen due to different ranking factors, though).
In fact, search engines know when a page was published for the first time. However, the bots consider what is on the page at the moment of the last crawl.
On each page, you can find time stamps for the first published and the last modified dates. There are options to keep only one of them visible, both or none at all. It is the best practice to let users know when the article first appeared and that it has been updated for comprehensiveness.
Mind that to Google a publication date might differ from the one written in an HTML (i.e., what visitors see). Some tools prove it easily, for example, the Schema validator, among other things, will show the date published and the date modified.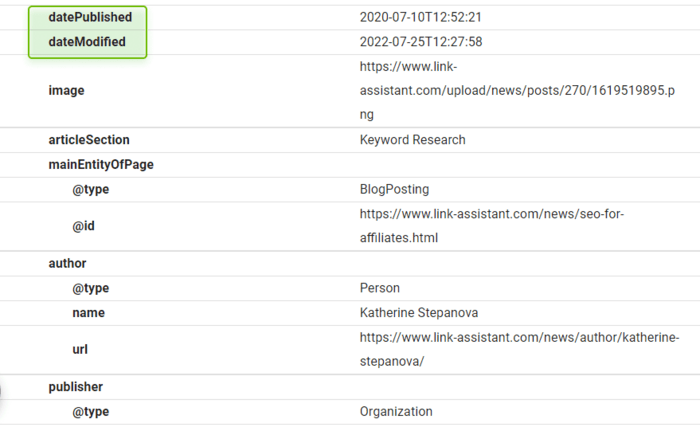 By the way, Google has a sanction for artificial freshening of publication dates as a violation of News and Discover policies, so don't overdo with it.
Can I change the author's name under a publication?
The question is covered in the discussion with John Mueller on Mastodon who did not answer yes or no. Our short answer is yes, you should change the author name under a publication if the new author's input into the publication has been big.
As mentioned in the list of factors for quality raters, author expertise is important in many areas. Things like knowledge panels and external signals can be important proof of an author's expertise.
So, here is another tip: if your site lacks authoritativeness, get your content written by experts or add a few quotes from trusted sources.
Consolidate content
Sometimes, a series of blog posts on the same topic appear one after another. Later, you can create a larger post that will be easier to digest and more valuable at the same time.
It worked for us with evergreen topics like PageRank or how to make a good website for mobiles. They had a few developments over the past decade, and we published articles about new trends. Next, we had to consolidate them and remove something irrelevant. This gave a good ranking boost and brought more organic traffic.
Tip
To create a better article, you can use SEO writing tools like Content Editor in WebSite Auditor. It will suggest relevant keywords, related questions, and topics. It will also take care of your meta titles and description to create a well-optimized SEO content copy.
The tool also recommends the word count by looking at the span between the lowest and highest word count among ranking articles.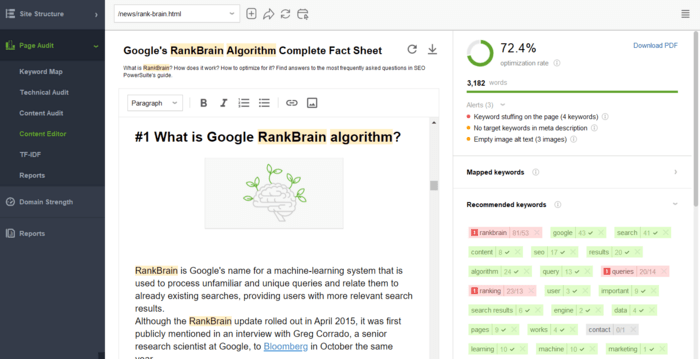 Finally, the word cloud will show the main keyword that the page is supposed to rank for. You can map the keyword and save the URL in your Keyword Map to check later how rankings and traffic improved after you entered all the edits.
Should I redirect or delete underperforming pages?
Consolidating pages, you will have to keep the most relevant URLs and get rid of the rest. Some pages can be simply redirected, but not all of them.
For example, it is considered no good for news platforms to unpublish articles (unless a judiciary requires it to ensure someone's right to be forgotten, which is anyway quite a rare case).
Pages without any traffic and backlinks are useless, so you can simply delete them.
For example, we deleted our SEO forum with questions like "unable to post to my G+ account". As hardly anyone will ever ask it these days, they were simply deleted. Some pages, though, were redirected to the Help sections and articles.
So, if there are good backlinks or traffic but you feel like the URL is not worth saving, place a 301 redirect.
Besides, there is a way to maintain an archive and improve site search. Websites with tons of old articles, including news publishers, should work over internal linking and build a good website structure. This way, the content will be clustered into topics, and all related pages will be discovered easily.
Hide content
In rare cases, you may choose to hide a page from search bots. Of course, I don't mean here cloaking or doorways, forget those.
For some URLs, there can be a way out to hide them from indexing with the noindex tag. It is appropriate for internal login forms, subscription URLs, i.e., what you do not need in the index.
For some other cases, such as digital marketing or redesign activities, you can use a temporary 302 redirect. Or you can cover up some unneeded information with a stub article (like our sales page when there are no ongoing sales).
Step 4. Track your pruning activities
The final step of content pruning is to add the changes. Here, we need to balance the available resources and expected benefits. It is clear that deleting a page or improving a text takes different time and effort. So, it may last from a couple of days to several weeks to prune the whole website.
You need to measure the impact of your content pruning process, so set the benchmarks in your SEO tools. You can add annotations in Google Analytics to see how traffic and behavior change after you've added your edits to the content.
Besides, in Rank Tracker, you can also add your content pruning date as an Event on the tracking graph and see if rankings change. If you haven't done it yet, read this guide on how to start tracking keyword ranks.

Along with the rankings, take notice of your overall Domain Strength. This metric shows the domain authority based on the website's indexing, rankings and traffic as well as backlink profile, and is available in all four tools of SEO PowerSuite. Hopefully, after proper content pruning, the Domain Strength score will slightly increase.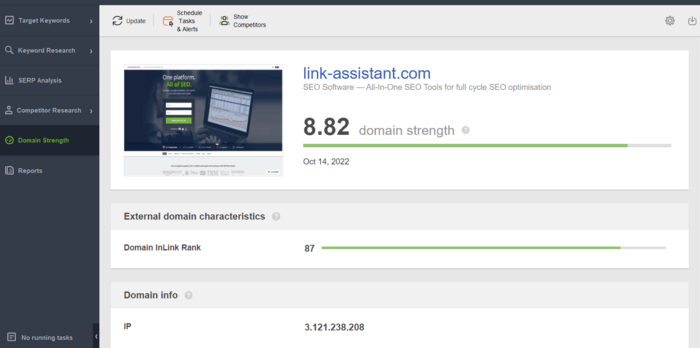 How often should you prune your content?
How often you prune your content depends on the size and type of your website. You may do it once in a while, like a spring cleaning once a year or so.
Another approach is to keep your content pruning as an ongoing activity throughout the year. You can create a plan for your content strategy with a list of topics prioritized according to their urgency and potential. It can somewhat resemble the Eisenhower Decision Matrix, but you split all work into urgent/not urgent and high/low potential.
Prune content thoughtfully
I hope this post shows why content pruning has to be part of any SEO strategy. If you have a good story to tell about how you pruned your content, you're welcome to share them with SEO PowerSuite users in our social groups.
Article stats:
| | |
| --- | --- |
| Linking websites | N/A |
| Backlinks | N/A |
| InLink Rank | N/A |