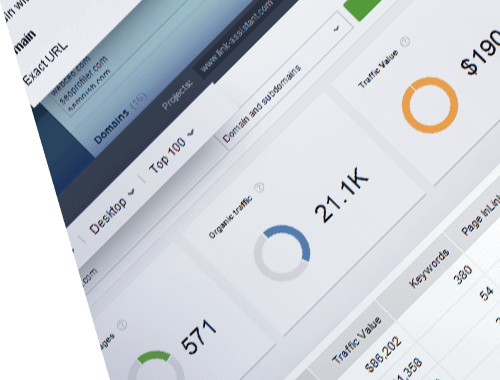 Find Your Competitors' Top-Performing Pages (and more competition research features)

Your Competitors' Top-Performing Pages (and other
killer features in SEO PowerSuite)

Whatever you do, no matter how great you do it, there's always a place for improvement.
With this in mind, we never stop working to ensure you have a better experience with our SEO PowerSuite software. Take a quick look at the new handy features we've rolled out in Rank Tracker and SEO SpyGlass:
Let's see how these new functionalities can help you with your SEO.
Competitors' Top Pages revealed
Make the most of your competitive research with Top Pages — a new feature that has enriched the Competitor Research module in Rank Tracker. See all your competitors' ranking pages alongside the traffic they receive, their traffic value, the top keyword each page ranks for, along with some additional stats.
See what types of content work best for your competitors.
Look at your competitors' content optimization strategies and tactics. For example, do they publish long-form content to target a bunch of related keywords or do they create pages that focus on a single keyphrase?
Find out how SEO traffic is distributed in your industry. Do your competitors get the most traffic from tons of long-tails or a couple of good head keywords?
In your Rank Tracker project, go to Competitor Research > Top Pages. Set up your preferred search engine, the type of device (Desktop/ Mobile), and the search depth (from top-10 up to top-100 positions).
Enter the competitor's domain to check in the corresponding field, then select the needed URL mode from the drop-down list — Domain only, Domain with subdomains, Prefix (it's a new one, I'll come to it a bit further), and Exact URL.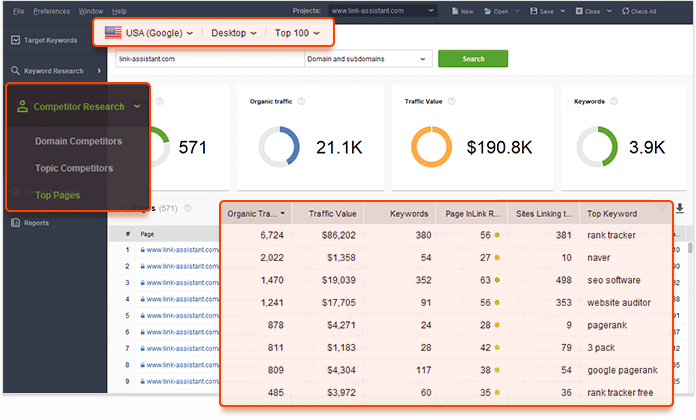 Here's a closer look at the metrics:
Organic Traffic — shows the overall amount of traffic a page receives from organic search. The table is arranged by default by this metric, so you see the page that gets the majority of traffic as the first result.
Traffic Value — the cost of the traffic received as if it was bought through the ads. The metric is calculated based on the following formula: Keyword Traffic * Keyword Cost per Click, for all the page's ranking keywords.
Keywords — shows the total of the page's ranking keywords.
Sites linking to the page — the number of domains that placed a backlink to the page.
Top Keyword — the keyword that brings the most traffic to the website.

Keyword Traffic — the total amount of traffic the top keyword brings to the page.
Traffic and keyword data for any site section
Get all the organic traffic and keyword data not only for the whole domain or exact pages but for any website section.
A new Prefix URL mode introduced in the Top Pages, Domain Competitors, Keyword Gap, and Ranking Keywords modules helps you easily check a certain group of site pages, using the following formula:
https://website.com/folder/
Prefix may be extremely handy to examine different sections of your or competitor's website (such as categories or product pages, blog, etc.) more in-depth. For instance, see which of them receives the majority of organic traffic. Analyze each section's ranking keywords and more.
In your Rank Tracker project, choose the needed module (Top Pages, Domain Competitors, Keyword Gap, or Ranking Keywords) and enter the URL of the site section you want to check in the corresponding field (mind that protocol and www matter).
Click the drop-down URL mode list that is set to Domain with subdomains by default, then select the Prefix mode from the list, then click Search.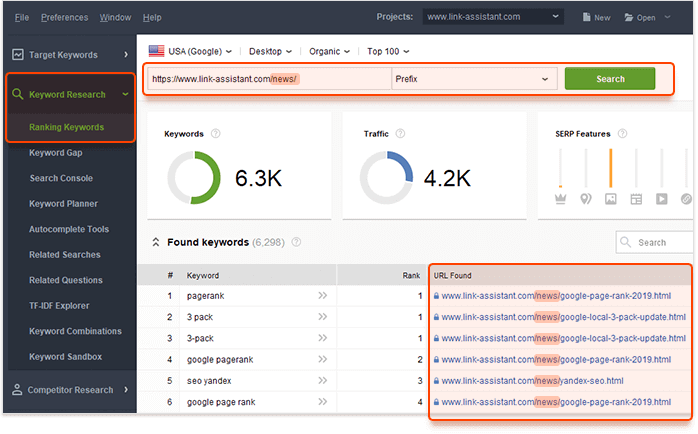 Ranking keywords and competitors in 37 more countries
We've added 37 more locations to the Ranking Keywords, Keyword Gap, and Competitor Research modules in Rank Tracker. See all the added countries listed below:
Austria
Belarus
Belgium
Bulgaria
Colombia
Croatia
Czech Republic
Denmark
Egypt
Finland
Greece
Hong Kong
Hungary
India
Indonesia
Ireland
Israel
Lithuania
Malaysia
New Zealand
Norway
Pakistan
Philippines
Portugal
Romania
Saudi Arabia
Singapore
Slovakia
Slovenia
South Africa
Sweden
Switzerland
Taiwan
Thailand
Ukraine
United Arab
Emirates
Vietnam
Though currently, the size of these new databases is not as big as the US database, they will grow faster now that they've been added to the tool.
If you don't see your country on the list, don't fret. We are working really hard on adding even more countries in the future.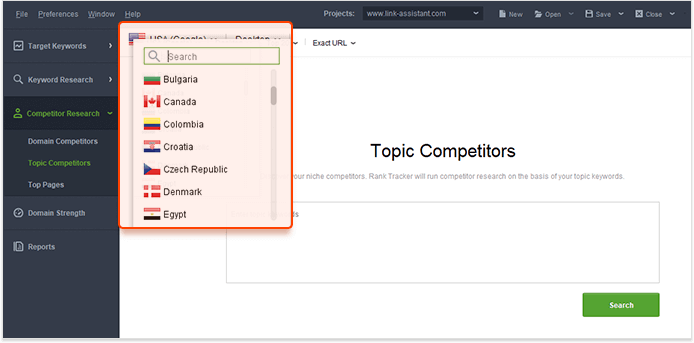 Rank Tracker data integrated into SEO SpyGlass
Profit from cross software data integration and have traffic and organic keyword stats from Rank Tracker in SEO SpyGlass.
Today, we are getting a step closer to better cross SEO PowerSuite software integration. From now on, analyzing backlink profiles in SEO SpyGlass Bulk Analysis, you can see the organic traffic and keywords for each of them. Thus, you may see the correlations much easier.
Besides, now you can analyze backlinks for either the whole website or a certain page with URL modes introduced to the module. These include Domain only, Domain with subdomains, and Exact URL.
Open your SEO SpyGlass project, and go to the Bulk Analysis module.
Enter up to 200 competitors to analyze in the corresponding window and select the preferable URL mode.
As soon as the analysis is over, you'll see two more columns in the analysis results table, including:
Traffic — the total amount of organic traffic a website/page receives (including all regions, desktop and mobile results for all regions).
Keywords — the total number of keywords a website/page appears for in the top 100 of SERPs (including desktop and mobile results for all regions).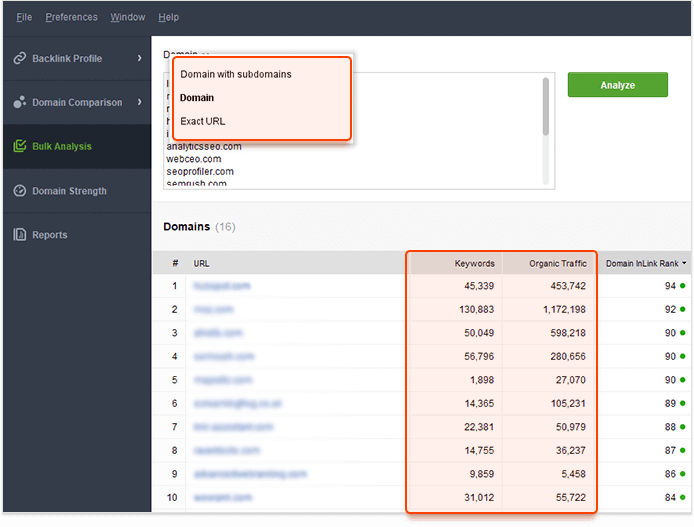 Conclusion
I hope you'll like these improvements that we've implemented into SEO PowerSuite. Rest assured, the team is not going to be idle. While you're reading this, we're already working to introduce more great things to our tools. And remember, all this is possible thanks to you, our users. Your comments and suggestions (even the most surprising) inspire us to become better day by day.
Stay tuned!
And if you haven't tried SEO PowerSuite yet, it's high time to get the license!
Find target keywords
Track your positions
Run in-depth competitive analysis
Find and fix any on-site issues
Optimize your pages' content
Build quality backlinks
Clean up harmful links
Analyze competitor's backlink profiles, etc.
Article stats:
| | |
| --- | --- |
| Linking websites | N/A |
| Backlinks | N/A |
| InLink Rank | N/A |