Pay-Per-Click in Rank Tracker - for all countries!

AdWords Pay-Per-Click
analysis in Rank Tracker — now for all languages and countries!
Have you noticed that Rank Tracker's PPC research data is now turned on for keywords in all languages and for all local markets? That's a great feature add-on we couldn't help telling you about!
Integrate your SEO and PPC the most traffic-productive way!
When wisely integrated with Pay-Per-Click, your SEO efforts get times more productive, raising traffic flow and visibility in search engines.
Rank Tracker was a great help for this kind of SEO-and-PPC blend long before, if you were targeting the USA market. And the great news is: with the recent update, valuable PPC research data became available for ALL languages and countries.
So, how do you use PPC research in Rank Tracker?
As you might have noticed, Rank Tracker has a special PPC Analysis tab that blends PPC & SEO metrics to let you wisely integrate your PPC and SEO campaigns for maximum traffic and payoff!
Effectively distribute your budget between PPC and organic traffic
Get maximum exposure and traffic for your website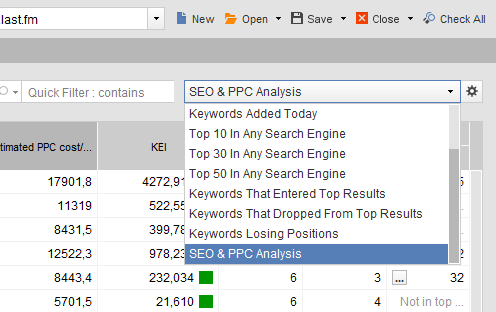 Here you have 2 values extracted for you directly from Google AdWords keyword tool:
| | |
| --- | --- |
| Cost Per Click | The approximate cost-per-click (CPC) you might pay for an ad for this keyword |
| Estimated PPC cost/mo | The approximate cost of your PPC campaign for that keyword per month |
Setting these crucial PPC analytical metrics side by side with your current SEO data, you've got all you need to efficiently blend your SEO and PPC campaigns to make the most of them both!
Choose which keywords to target with SEO or PPC!
Pick the most traffic-promising keywords and see if it's wiser for you to target them with SEO or PPC activities.
Check which keywords can bring you substantial traffic (# of searches a keyword gets)
See if it's wise to run SEO activities to go for this traffic (KEI)
Check the costs required to drive that traffic via PPC (estimated PPC cost per month)
Now make an informed decision on which options suit your biz and budget the most!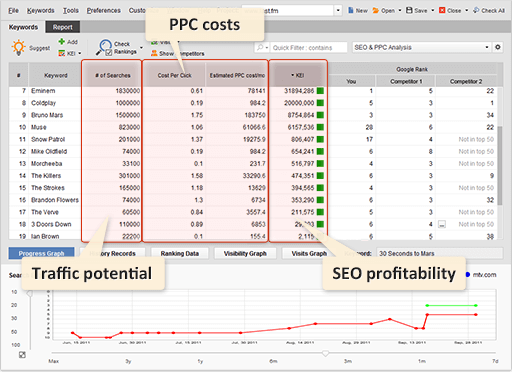 Profit with PPC ads where SEO fails!
Adjust a PPC campaign to your current SEO rankings — make sure your PPC ads are always here to help where SEO efforts fail.
See if the PPC cost lets you buy ads for the keywords you don't rank high for in organic SERPs
See which of your site's high SEO rankings can be supported by PPC ads for more traffic and exposure
Try gaining over your competitors' SEO traffic, buying PPC ads in the niche where they outrank you organically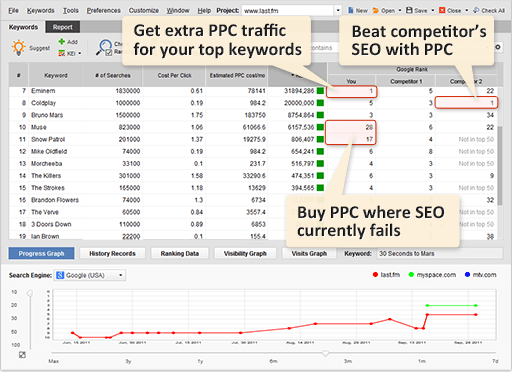 Test keyword conversion with PPC, before starting SEO!
Before planning a long-term SEO campaign for new keywords, find out if they are worth targeting - test their real conversion with a quick PPC campaign.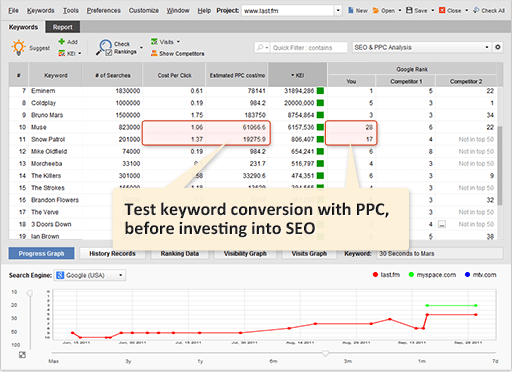 Wish to take advantage of these business boosting SEO+PPC opportunities? Just download fresh version of Rank Tracker from the website. And make sure to get a registered copy of Rank Tracker to be able to use PPC analysis full force (saving your projects and tracking changes over time).
---
Article stats:
| | |
| --- | --- |
| Linking websites | N/A |
| Backlinks | N/A |
| InLink Rank | N/A |