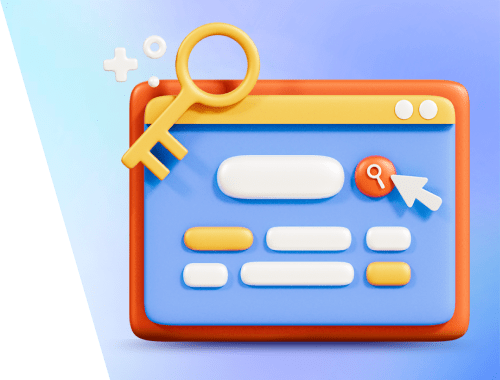 6 Ways To Find Keywords on Any Website
Every time you create a new page or remaster an existing one, you start off with choosing the right keywords for your content. The easiest way to do so is to check the keywords your competitors already use, as those ones surely bring impressions and clicks (otherwise, your competitors would not use them).
In today's post, I'll show how to quickly find keywords on any website including your competitors, choose the ones relevant to you, and properly apply them to your SEO strategy.
What is a site search for keywords?
A site search is a process of finding specific keywords or pieces of content on a website under consideration. Most often, this technique is used as part of a keyword research process, aimed at discovering the top keywords of your competitors and filling the keyword gap.
Why is a site search useful?
A website search for keywords can greatly complement your SEO strategy. For example, it can help you with the following:
Discover new content ideas
When you're digging through a competitor's site's pages, you're likely to find content topics that you don't have on your site. While some keywords may not be relevant to your niche or product, I'm sure that 85% of them will be a nice boost to your content strategy.
Fill the keyword gap
It's a common case that your site's content doesn't feature the keywords your competitors use. Your goal here is to minimize the keyword gap and include competitors' keywords in your content thus taking a part of competitors' traffic.
Help Google understand your content
When crawling your page, Google does not only look at the target keyword but reads the surrounding context (semantically related keywords). This lets Google build stronger ties between topics (read: train its AI) and better understand the entities you mention.
How to find keywords on a competitor's website
Maybe I will not surprise you if I say that ctrl+F is not the best way to do a site search. Sure thing, it may help find a piece of information on some page, but it's not a bulk solution at all. And bulkiness is what we are looking for in terms of keyword research. So, let me show you some quicker and more accurate methods.
1. Run a site audit with WebSite Auditor
Prefer videos? Watch our short video guide.
Site audit tools like WebSite Auditor let you kill two birds with one stone. First, you immediately get the list of all the SEO issues to fix on your site. Second, you'll get keyword advice based on your top SERP competitors.
Today I'll take a closer look at the second aspect.
So, to identify the keywords you need to add to your page, do the following:
1) Download WebSite Auditor and create a project for your website. Wait for a little until the tool examines all the URLs and welcomes you with a detailed analysis.
2) Head to Page Audit > Content Editor and choose a page you want to optimize. If you want to create a new page, then choose Create new page content.
Download WebSite Auditor
Enter the keywords the page is meant to rank for.
Download WebSite Auditor
3) Once the audit is ready, you'll see a total optimization score of the page under consideration and — the most interesting part — the list of keywords you should use on your page based on your SERP competitors' content:
Download WebSite Auditor
The tool shows how often a keyword should be used on the page to avoid keyword stuffing. Plus, it will also tell if you've already overused some of the keywords (highlighted in red), so you can do the fix on time.
Local business tip
A nice thing about WebSite Auditor is that you can analyze your pages' content from different locations if you need to. To do this, in Content Editor, click the burger menu in the upper right and choose Manage search engines.
Download WebSite Auditor
Then put a tick near Use separate search engine for this page and click Manage search engines:
Download WebSite Auditor
You can choose a search engine from the provided list, or set up a custom one. For example, I want to check how my page performs in Google in Milan, Italy on mobile devices. So I scroll the list till I find Italy and choose the Add custom option near Google.it (Mobile):
Download WebSite Auditor
In the Preferred Location line, I enter the address and click Apply — the tool will automatically spot the correct location. The location can be as specific as the exact street address anywhere in the world. Then I create a name for my new search engine (Short name) and click OK.
Download WebSite Auditor
Once again, I click OK. After that, I click the drop-down menu as it is shown in the image below, choose my newly-created search engine, and click Apply.
Download WebSite Auditor
Voila! Now Content Editor shows keyword suggestions relevant to the location I've specified.
Download WebSite Auditor
In terms of content optimization and competitor analysis, doing a site search with WebSite Auditor is the quickest and easiest way to enrich your content strategy. Still, there are some other ways of exploring competitors' keywords and content that may help you and your copywriters. Let's look at them, too.
2. Explore a website with Google Keyword Planner
Even though Google Keyword Planner is a paid promotion tool, it can be extremely useful for keyword research and for "spying" on your competition. Here's how:
1) In your Google Ads account (create it if you don't have one — it's easy and free), click Tools and settings > Planning > Keyword Planner, and choose Discover new keywords.
2) Switch to Start with a website, paste a competitor's URL you want to explore, specify location and language, and choose if you want keywords from the specified URL or from the whole domain. Click Get Results.
3) Enjoy the results.
Use filters to get rid of keywords with low search volume or a high competition score.
Note, though, that the data displayed in Keyword Planner better suit planning ad campaigns — some figures are pretty vague and do not give you a full understanding of how to use these keywords in organic search. So, let's move to a better option:
3. Use Rank Tracker's Keyword Planner
Rank Tracker is an indispensable tool for keyword research and competitor analysis. Today I'm going to focus on one specific feature — Keyword Planner. Technically, it is the same Google Keyword Planner integrated into the software, but the analysis of collected keywords is much deeper.
So, here's what you should do:
1) Download Rank Tracker and create a project for your website.
2) Go to Keyword Research > Keyword Planner. In the drop-down menu, select Google Ads - by Target Page and paste the competitor's URL. Select the language and location. And finally, click Search.
Download Rank Tracker
3) As you can see, Rank Tracker found much more keywords than Google Ads Keyword Planner. The tool also provides more accurate data so you can filter the results and choose keywords that are relevant to your content strategy.
Download Rank Tracker
4. Use Rank Tracker's Ranking Keywords module
In addition to more specific keyword research methods, Rank Tracker lets you find all the keywords a website ranks for. This method will give you a lot… no, A LOT of keywords.
Here's what you should do.
1) In Rank Tracker, go to Keyword Research > Ranking Keywords.
2) Type in the domain (or the exact URL) you want to find ranking keywords on. Specify the region and type of device. Hit Search.
Download Rank Tracker
3) Enjoy the list of up to 10,000 best ranking keywords.
Download Rank Tracker
As you can see, the number of discovered keywords is really impressive, so I'd recommend filtering them to exclude those low-volume, branded, or too difficult ones.
5. Use Google's site: search operator
Google's site: search operator is not really about finding keywords on a website but checking what pages feature the term you're looking for.
You can use this method to check if your domain already contains pages related to a specific topic (i.e. to avoid keyword cannibalization) or investigate what your competitors are writing on the matter.
Here's how you do it:
1) In the Google search bar, type site:domain.com keyword, like this:
2) Initiate the search and enjoy the result.
3) If you only need the exact-match keywords, type the search term in quotation marks: site:domain.com "keyword".
4) If you're looking for the results from a subdomain, then specify the subdomain instead of the parent domain: site:blog.domain.com keyword.
Google site search is the method I'd recommend using for content ideas, not for keyword research. So in this case, a broad search (without "") is better.
6. Conduct a search on a website
Every (well, almost every) website has an inner search bar that lets you find any term or topic. Just like Google site search, this method is better for finding topically relevant pages on a website rather than doing comprehensive keyword research or competitive intelligence. But anyway, it's not useless at all.
How to perform a search on a competitor's website? It's easy — just type a query into the search bar and get your results.
Note that some websites do not have a properly assembled search, and you may get something chaotic in the result, like Google ads from other sites, irrelevant descriptions, etc.:
Extra bonuses of a site search
Sure thing, a site search for keywords can greatly boost your content strategy. But the truth is that it has much more benefits than mere SEO help. A website search is also a way to increase organic engagement and users' trust and make your site more credible in the eyes of Google. Here's how:
Find fresh data
Content is always more credible if it is backed up with data — research, numbers, infographics, etc.
A site search on websites that feature relevant studies may give you many insights and fresh numbers. This way, your page will be more attractive to users and Google — backing your data up with relevant outgoing links will add to E-E-A-T signals. In the era of AI content's growing popularity, trustworthiness of data means a lot.
Find quotes
Scrolling tons of forum threads for quotes is absurd, but doing a site search to find what industry experts say on the matter is a way to go. Quotes, especially those linked to the source, also add to the site's trust. Besides, there's just a human factor — a quote from a famous person, especially if supplemented with a photo, works like a magnet and helps build trust.
Find case studies
Case studies may help you back up your content with proven experience and get myriads of ideas for your own case studies. Both methods will do.
To sum it up
A site search often remains neglected because it is a pretty old technique. Well, old but gold. Plus, different SEO tools modified it greatly, so site search may be quite helpful for your content strategy.
Do you use site search to get content optimization advice? Share your experience in our Facebook community.
Article stats:
| | |
| --- | --- |
| Linking websites | N/A |
| Backlinks | N/A |
| InLink Rank | N/A |