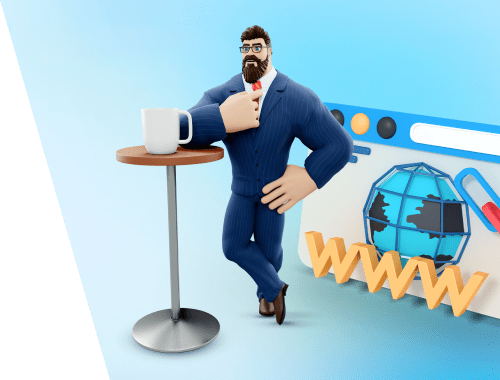 What Is Domain Authority and Why It Matters for SEO
Domain authority is a metric that lets SEOs predict the ranking potential of a website. For example, when pitching partnerships, link builders always tell the authority of the domains they are working with. So, is domain authority really that important, and if so, how can one improve it?
In this article, I will look into the concept of domain authority, how it is calculated, and how to increase it for your website.
What is domain authority?
Broadly speaking, domain authority is defined as the relevance of a domain for a particular industry or subject.
In search optimization, domain authority is a way to measure the SEO strength and the ranking potential of a website. SEOs use domain authority as a relative metric to predict the likelihood that a domain will rank well in search engine result pages (SERPs): a higher domain authority means the website has more chances to rank in organic results.
Alternative metrics to evaluate domain authority
To measure domain authority, popular SEO tools have developed their proprietor metrics. And while criteria for scoring domain authority vary from one tool to another, all these tools measure roughly the same thing – the SEO strength of a domain.
Here are a few popular authority metrics:
1. Domain Authority (DA) is a score developed by Moz to predict how likely a website is to rank in SERPs. It is based on dozens of factors, including the quality and quantity of inbound links. Moz's Domain Authority ranges from 1 to 100: the higher the score, the easier it will be for the website to rank.
This metric is calculated by a machine learning algorithm based on how often the considered domain shows up for target queries compared to other sites on the SERP. Thus, DA is a comparative, not an absolute metric, measured in the context of a specific competitive landscape.
2. Domain Rating (DR) by Ahrefs is a score to measure the strength of a website's backlink profile in relation to other websites in their database, compared on a 100-point logarithmic scale. For calculating DR, the tool considers the quantity and quality of all backlinks, and also how many other unique domains each backlink source links to.
Note that even if your domain did not lose any backlinks, its DR may change if other websites have acquired more authoritative backlinks.
3. Trust Flow (TF) and Citation Flow (CF) are two metrics developed by Majestic SEO to measure the quality and trustworthiness of a website. Citation Flow measures the number of links to a website, while Trust Flow measures the quality of those links.
If a website has a high Citation Flow but a low Trust Flow, this could indicate that the website has a lot of low-quality backlinks.
4. Authority Score is a metric developed by Semrush to measure the strength of a domain. It ranges from 0 to 100 (with the higher score indicating a stronger domain) and takes into account a variety of factors, including the link power (quality and quantity of backlinks), estimated monthly average organic traffic, and spam factors (indicators of spammy vs natural link profile).
5. Domain Strength (DS) is a proprietary metric incorporated in all four tools of SEO PowerSuite. This complex metric scoring from 0 to 10 measures the SEO strength of a website based on a variety of factors such as Domain InLink Rank, domain age, backlinks, social signals, etc. You can use this score to observe how a domain's strength grows along with your optimization effort.
Part of Domain Strength is a more specific metric Domain InLink Rank that considers only the number and quality of backlinks. This value estimates the importance of a domain on a logarithmic scale from 0 and 100. InLink Rank is based on the same algorithm as the original Google PageRank and is determined by the number and quality of incoming links to the domain. The more authoritative domains linked to your website, the higher its Domain InLink Rank.
As you can see, domain authority metrics are all relative scores. SEOs use such metrics to estimate the potential of websites, compare them, and plan SEO activities. Besides, our research shows that domain authority roughly correlates with rankings: websites with higher authority scores (in whatever tool, as the scores also correlate between themselves) generally rank for more keywords.
How do I check my domain authority score?
In each SEO PowerSuite tool, you can instantly check the Domain Strength score in the corresponding module. There you will see all the important factors impacting your domain authority, such as:
Besides, you can check the Domain Authority score by Moz via the free API. First, you need to define the key in Preferences > Moz API Settings. Next, hit the Settings button in the top right corner and tick the DA score to be visible in your report. Then, hit the Update button to get the scores calculated or recalculated afresh.
What factors are crucial for domain authority?
Domain authority is based on dozens of signals that can roughly be grouped into the following dimensions – backlinks, content, and general website reputation. Some factors might be taken into account, others might be omitted – it depends on each tool and the methodology it uses to calculate the score.
So, let's take a look at some of the known factors to see why they are important.
1. Backlinks
Backlinks have been the top ranking factor for decades – not for Google alone, but for other search engines as well. When talking about domain authority, we want to know in the first place how much we would benefit from getting a link from the domain.
The more backlinks a site has, the more prominent it seems to search engines. Meanwhile, all backlinks are not equal. For some time, even Google's PageRank score was available as a public tool that showed the strength of a page from the point of view of backlinks.
For this purpose, most backlink checkers have their own estimates of link value. For example, SEO SpyGlass evaluates the quality of a site's backlink profile according to the following criteria:
2. Сontent
Quality content is the part and parcel of improving domain authority. Content should be original, relevant, and engaging, and should provide value to visitors.
In this regard, good content:
3. Site reputation
There are a bunch of signals showing that a site is trustworthy and reputable. However, the necessity of such signals may vary from one niche to another, depending on the type of business and the competitive landscape.
Quality Raters' Guidelines (which got some important updates last year) sheds light on how Google estimates the quality of a website. Among other things, these indicators are crucial to website authority (paragraph 2.5):
Besides, the update in the Raters' Guidelines touched upon YMYL topics. Such pages must be subject to higher scrutiny and require enhanced signals of trust.
4. Website age
Websites that have been around for a long time tend to have higher domain authority. An older website may have more backlinks and content, and it is easier for such a domain to establish signals of authority and trust. And vice versa, it may have swapped owners a few times because it had been penalized. All these facts count. That's why, when you decide to pick up a dropped domain, or maybe you want to partner up for link-building with a brand-new site, it's good to know what's been happening on it for years.
Just as an example, here is a response from John Mueller stating that a domain's bad legacy might impact its rankings even when nothing wrong is published on the website later on.
5. Organic traffic
Organic traffic is all it's all about. When we are planning a marketing campaign or choosing another keyword to optimize for, we want to know how much traffic it will bring us. So, most rank checker tools have in-built traffic checking options to see (or better say approximately predict – when we mean estimates of somebody else's domain) if the website has live organic traffic on it.
6. Social media activity
Although user behavior is not a direct ranking factor (at least, it has never been named as such), the more engagement happens, the better it is for the page and the domain as a whole. And a site getting a decent volume of tweets and shares will surely have high exposure and visibility. So, social signals are an additional sign that the domain is going strong.
How to improve domain authority – a few tips
Building up your domain authority is a long-term strategy – it may take months and even years to get high scores. So, just stick to your course and persevere – everybody once started from scratch.
1. Publish high-quality content
Publishing great content regularly on your website is one of the most important steps to improving your website's authority. Well-written, relevant, and engaging content can help your website rank higher in search engine results.
First and foremost, your content should be written for people. Always try to find buzz topics, explore what your potential or real clients are discussing, and research your competitors to find thrilling content ideas.
Next, make sure that your copy is written in a friendly tone of voice and is free of errors.
Last but not least, make your content well-structured, readable, and optimized for search: because in the modern-day sense, texts optimized for people and for search engines mean approximately the same thing.
How to
First, examine your content quality, using the Page Audit module with a page-by-page audit in WebSite Auditor. In the Content Audit section, see what important elements are missing or poorly written. In the right-hand pane, you can quickly compare titles, headlines, and meta descriptions from top-ranking competitors' websites, read explanations about each factor and get tips on how to improve it.
For each page that you review or plan to optimize, map the target keyword in the Keyword Mapping tool and check the optimization score of the page.
Download WebSite Auditor
Next, to create better texts that are well-written and optimized for search engines, get help from the in-built Content Editor app in WebSite Auditor to create a comprehensive copy. Here, you can edit your text with optimization tips delivered on the fly.
The advice is taken from the competitive analysis of top-ranking competitors. Pick the recommended keywords that the tool discovers for you with the help of TF-IDF analysis. And also, you can expand your textx with the help of topics and questions, populated from FAQs and People Also Ask sections.
2. Optimize your site for search engines
Good content will not be able to rank unless you have a healthy optimized website, so strong technical SEO comes as a matter of fact. Optimizing your website for search engines can help improve your website's visibility and authority.
How to
Audit your website's SEO health with WebSite Auditor. It will help you make sure your pages are crawlable and indexable, detect broken URLs and redirects, find duplicates, check alt texts and hreflang tags, and verify tons of other technical SEO issues.
Download WebSite Auditor
Besides, websites should be optimized for mobile devices, as more and more people are accessing websites via mobile devices. For page speed issues, connect the tool to the PageSpeed API and get an overview of all your loading issues in bulk.
You can copy or export all your data in a CSV format or a PDF report and hand it over to your webmasters for fixing.
3. Create a good website structure
Website navigation and accessibility are as important to domain authority as overall optimization. So, pay attention to proper site structure and internal linking. It will help search engines detect and rank the most important pages of your site.
How to
To analyze your site structure, use WebSite Auditor. In the Site Audit module, the Pages section, you can see the click depth as well as examine the incoming and outgoing links on each page.
You can also use the Visualization tool to evaluate your internal PageRank flow. Here, you can switch the view to see internal PageRank scores, Pageviews per page, detect long redirects or unlinked pages, and even plan new pages and internal linking changes.
Download WebSite Auditor
Among other things, make sure to optimize your homepage and supplementary content properly. Publish important information about your company, terms and policies. Besides, if you run a local business site, add NAP (name, address, phone number if relevant), as it will help search engines (and visitors) understand your brand as an entity.
4. Get links from authoritative sites
Links from authoritative sites can help increase your domain authority. Try to get as many backlinks from reputable websites as possible. An example of high-quality link sources can be domains on popular resources in your niche or local media.
How to
First, you can use SEO SpyGlass to audit your site's link profile. The Backlinks chart provides the details about each linking source: the domain and page InLink Rank, the linked page, its HTTP status code, and even the penalty risk score.
Download SEO SpyGlass
The backlink checker contains several modules where you can analyze domains in bulk. The tool is helpful for broken link-building, competitor's backlink gap search, and some other link magic.
You can also use LinkAssistant with its highly detailed prospect search to find great linking sources. The tool has quick options to find websites that accept guest posts, niche directories according to your keyword and location, and even competitors' backlinks, sorted by their recentness.
Download LinkAssistant
5. Track your website performance
Monitor your website's performance to notice issues that can affect your website's ranking. Keep an eye on website page speed, broken links, and other technical issues.
How to
You can set WebSite Auditor to automatically run a site audit once a month (or at any interval you want). After the crawl is complete, the tool will deliver the report to your email or will save it to your computer or cloud – define your preferred way, and let the tool do the routine for you.
Download WebSite Auditor
6. Monitor your competitors
Seeing what your competitors are doing is not only a necessity but also a source of fresh ideas. If you haven't analyzed your competitors yet, it's high time you do so: explore content gaps and find linking sources you haven't yet partnered with.
How to
If you don't know your organic competitors, ask Rank Tracker to suggest ones. Throw in a couple of seed keywords in the Competitor Research module, and the tool will show with whom you overlap for the same keywords. Besides, the intelligence tool will show the competitors' organic traffic as well as unique and intersecting keywords.
The Top Pages section will find the competitors' top-ranking URLs, their main keyword, estimated organic traffic, and the traffic value if the same traffic would have been purchased via Google Ads.
Then, you can add up to five competitors to your project and monitor their rankings alongside yours. Besides, the extensive Keyword Research section will suggest their high volume keywords that can help you get tons of additional traffic.
7. Leverage social signals
Social networks can be a great way to build links and increase visibility for your website. And build relationships with potential customers. You need to post content on social media regularly, share news about your business, and engage in discussions with your audience.
How to
To help you with social media management, use Awario social listening tool. Here, you can overview new mentions across all your social channels stacked together in a single dashboard. You can also measure the prevailing sentiment around your brand and even discover leads among influencers and bloggers in your niche.
Bottom line
Domain authority should not be a goal by itself, as it is a relative metric that only helps you with SEO and marketing. You can use any tool of your preference to observe how your domain authority improves – this way, you will know that your SEO strategy is working.
Do you often need to know domain authority, and which metrics do you rely on? Feel free to discuss it in our user group on Facebook and Twitter.
Article stats:
| | |
| --- | --- |
| Linking websites | N/A |
| Backlinks | N/A |
| InLink Rank | N/A |