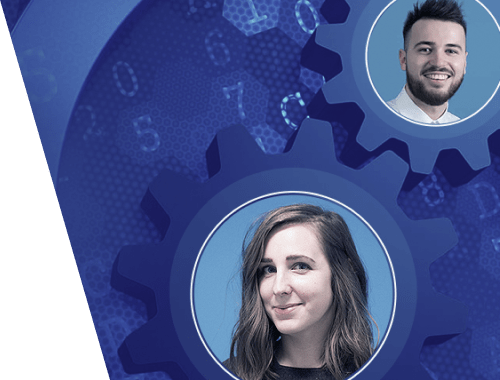 How We Cut Cost per Lead Six Times [Case Study]

How We Cut Cost per Lead Six Times [Case Study]

By:
Katy Carter and Jack Roebuck

In this case study, you'll see how the SEO specialists at Digital NRG took a client's education and training website and drastically reduced the organic cost per lead in just seven months.
About the project
The client is a vocational training provider, delivering nationally recognised hairdressing and barbering training courses, from NVQs to apprenticeships. They run five state of the art academies across London, Essex, and Hertfordshire, with expert instruction from industry leaders.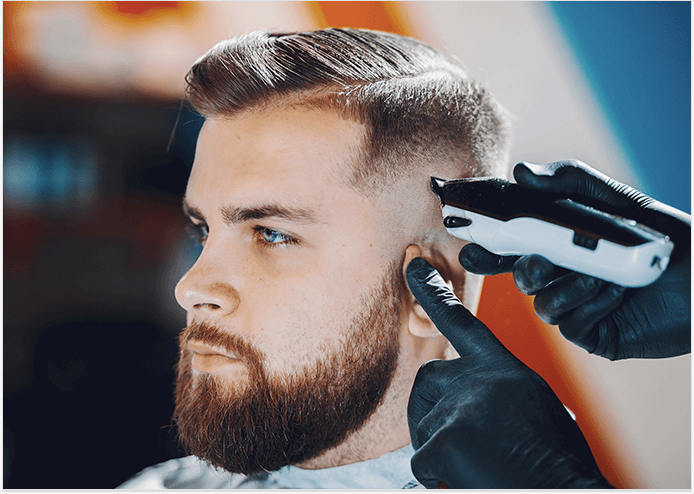 The client signed up with our agency in 2018. At the beginning of the project, the client's website was receiving around 3,300 organic visitors per month, had a conversion rate of 2.58% on their main submission form, and paid £50 per lead.
Within the space of 7 months, we were able to more than double their organic traffic, bring the conversion rate up to 2.85%, and reduce the cost per lead down to £8, delivering an outstanding ROI. Not only this, but we also helped their site rank for many more related keywords and feature at the top of Google's job listings.

Project goals and challenges
As a regionally-based training scheme provider, the main goal for this project was to drive enquiries for courses across the three regions, increasing organic traffic and sign-ups to hairdressing and barbering training programmes. London being a massive city and competitive area, this was a challenge for our team, to ensure our client could be seen amidst the competition.
With a starting cost per lead of £50, the client was eager to cut this significantly, receiving increased ROI from their marketing strategy. The client was also advertising their training courses on popular job board Indeed.com and was keen to axe this additional cost from their annual budget.
What we did
The initial stage involved a full site audit, covering on-page, technical and off-site SEO, followed by keyword research, content creation, a few cheap link-building tactics, and schema implementation.
Technical audit
One of the main issues we came across was with the site's indexing. Through running a site crawl with Screaming Frog, we could see immediately that both the HTTP and HTTPS versions were being indexed. To fix this, we updated the site's settings to prevent duplicate URLs from being indexed.
Keyword research
We undertook detailed keyword research, using the client's main services and locations to find relevant primary and secondary keywords. We quickly found multiple quick win keywords with search volumes of between 200 and 500 per month. We loaded these into SEO Powersuite keyword research software to see where the site was already ranking and which pages were showing up for those keywords.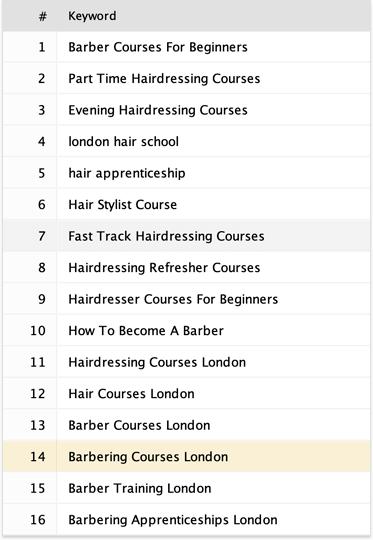 We were also able to see any other keywords the site was ranking for, using the Ranking Keywords report in Rank Tracker, as well as see which competitor sites were ranking top for our chosen keywords. Jump to see keyword research tutorial here.
Content creation
When we looked at site content, there were no dedicated landing pages for the main keywords our client wanted to rank for. We created tailored page content for each of the client's locations, with dedicated landing pages for the different courses being offered. We also optimised each page's metadata and used keyword optimised anchor text for our internal links.
A large portion of our client's students are adult learners. So, we created specially optimised landing pages for hairdressing courses for adults. We tailored these pages to a more mature audience, using appropriate copy while keeping true to the company's tone of voice. To do this we created customer personas, identifying key traits and demographics to personalise our writing towards the target audience.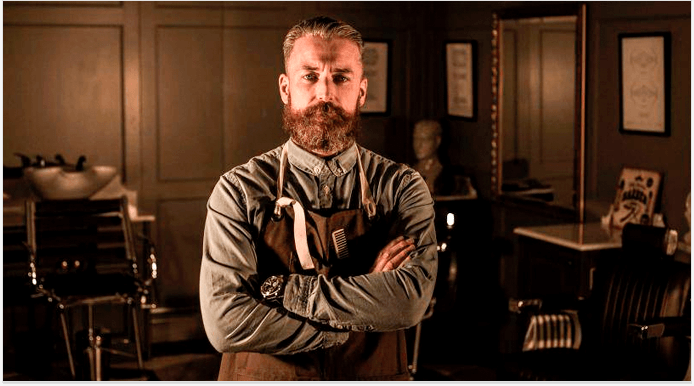 The idea being that adult learners are more likely to be career changers, we formulated these pages more towards some of the questions a career changer might have. We used tools such as KW Finder and Answer the Public to find questions relevant to this audience that our landing page could answer. We put these questions in our page headings, making sure to include our main keywords such as 'hairdressing courses'. In structuring the pages this way, we made them easy to navigate and user friendly as well as helpful and informative to prospective learners.
A few best practices we always try to incorporate when creating landing page content:
Write to the reader
People aren't looking for impersonal copy that doesn't speak to them. They want to feel spoken to. Instead of writing to the unknown masses, make sure you're writing to that one person. The person who defines your target audience. Creating buyer personas is a simple and effective way to achieve this. It'll make your copy more natural and appealing to the reader. Not to mention, it'll make you think about the user journey and experience more clearly.
Avoid large blocks of copy
With shorter attention spans than ever, we can easily get lost when faced with walls of text. It's vital therefore to ensure you're breaking up copy with visuals (images, videos, graphics, etc.) or even just white space. It'll be easier to hold the reader's attention and get them where you need to go.
Use keywords naturally
Whatever some folks may say, keywords aren't dead. Not by a long way. It's necessary to incorporate relevant primary and secondary keywords into your copy, in particular your headings. But, only if you do it naturally. If you can't work out a way to fit in a keyword naturally into your copy, try an alternative variant.
Feature a clear CTA
If your landing page doesn't have a clear call to action, what is it there for? Make sure your reader knows exactly what you want them to do. Whether that's downloading a brochure, completing a form, or heading deeper into your site. Make it clear and don't feel you have to hide it at the bottom of your page. Don't go overboard with multiple calls to action. Pick one and focus on that.
Link building
Next, in a bid to grow the site's authority, we began link building, with the aim of sourcing links through both the site's home page and the new landing pages. Link Assistant had also helped us identify several high authority hair blogs, which we outreached to and secured high-quality backlinks to our client's site.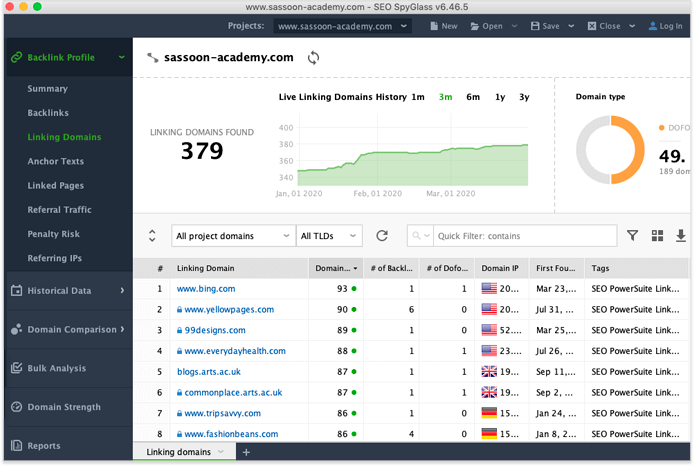 We used SpyGlass Domain Comparison and Link Intersection tools to identify sites that were linking to our competitors and not to our client's site, allowing us to plan effective outreach to those relevant sites.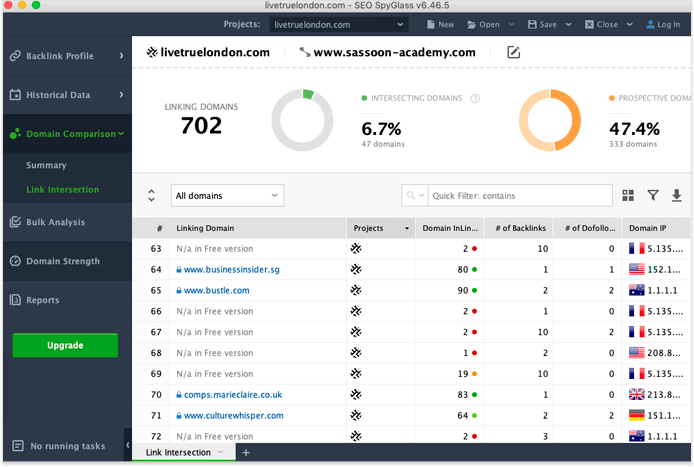 The key to our outreach is thorough research followed by well-crafted outreach emails to relevant prospects. When sourcing potential outreach targets, we looked at metrics such as:
Domain authority
Number of backlinks
Follow/no-follow links
When it comes to emails, it can be tricky to find the right way to reach out. After all, website editors receive so many outreach emails each day. Here are a few things we have found effective in our SEO outreach strategy:
Get to the point
Don't make them wade through paragraphs of text before you get to the crux of what you're asking for. We guarantee they won't make it that far. They're busy people.
Sell the benefits
Talk about the SEO benefits. About how what you are offering (be it a helpful resource or a piece of content) is of value to their visitors. Make it as easy as possible for the editor by ensuring the copy is strong, optimised and includes header tags and metadata.
Tailor your pitch
Make sure you have thoroughly researched the industry, know the audience, and have actually taken a decent look at the site. Find out who the editor is and follow their social media profiles. If possible, leave comments on their blog posts or interact via social media. That way, you're not just going in 'cold' and you can effectively tailor your pitch in a way you know will interest them.
Test, test, test
Try several different formats and alternate wording for your outreach emails. See which ones tend to perform best. That way, you can learn what works and capitalise on it to increase your chances of success with future prospects.
Don't forget to follow up
Website editors, especially for huge global sites, are busy. It's important therefore to follow up on your first email a week or so later. This gives your request double the chance of being seen. Don't badger the person. A polite follow up 'hey, did you get a chance to read my email?' is fine.
Schema implementation
Perhaps our biggest breakthrough was our implementation of the job schema. We created custom code for each training course, ensuring the listing was keyword optimised.
Using Google's Structured Data Testing Tool, we tested the schema code before implementing it on the client's website. The code was then placed on the relevant pages by the site's developers. Shortly afterward, our client appeared at the top of Google's job listings, above Indeed.com. Google Jobs is now their third-highest organic traffic source and second-highest conversion source.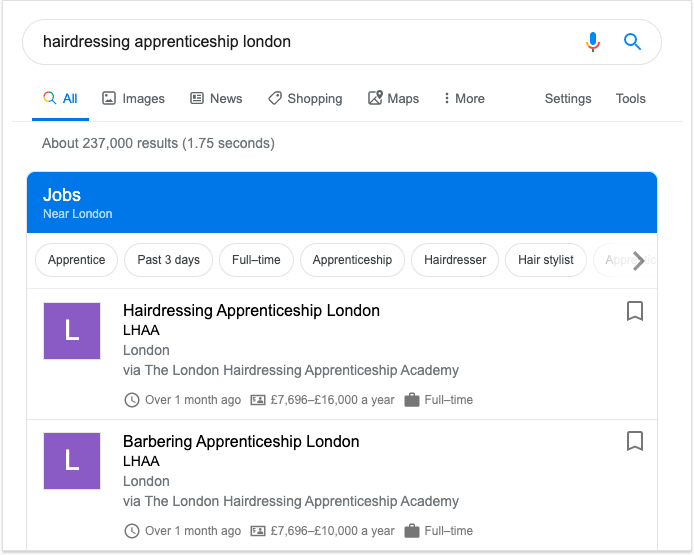 Through implementing job schema on site, the client saw a big increase in organic traffic, with a conversion rate of 18.59%, compared to 2.58% for normal organic traffic. This showed that although the traffic was smaller with the job listings the quality of traffic was very relevant.
Using SEO PowerSuite tools
Apart from using Rank Tracker for keyword research and SEO SpyGlass for link building, We've also used Rank Tracker's dashboard for monitoring our progress. Identifying weak spots, opportunities, and quick wins ensures a strategy that is destined to succeed. Using a tool like Rank Tracker to stay up to date with the campaign's progress ultimately helps us find those opportunities and deliver better outcomes for our clients.
The results below compare the client's rankings from the day they were first run to the most up-to-date rankings. This is a great way to prove ROI with traffic, conversions, rankings, and cost per lead all exceeding the client's expectations.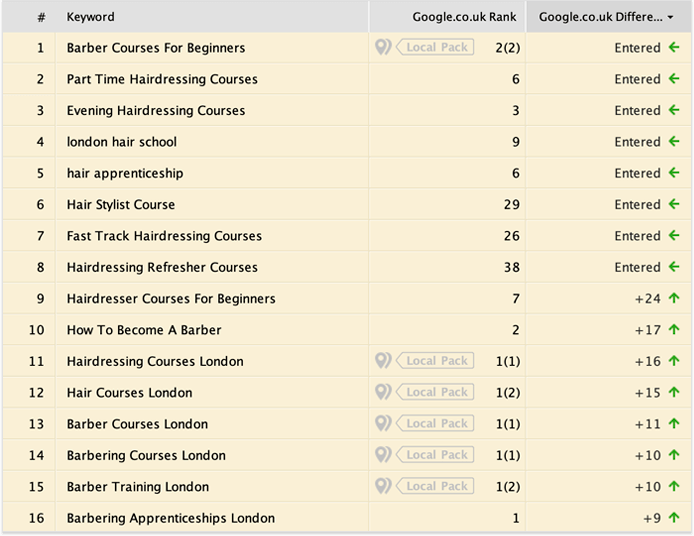 About the authors


Katy & Jack are senior SEO specialists at a leading
SEO agency in Bristol
, Digital NRG. Together, they have worked on SEO for hundreds of regional and national clients, in industries ranging from health to construction. Jack heads up the SEO team and leads the way in developing our SEO proposition, while Katy is the agency's chief content writer.
---
Article stats:
| | |
| --- | --- |
| Linking websites | N/A |
| Backlinks | N/A |
| InLink Rank | N/A |